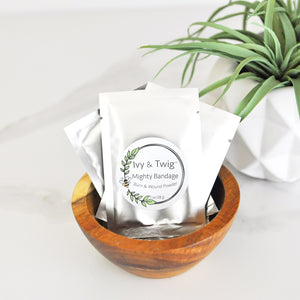 Mighty Bandage™ contains a blend of antiseptic, antibacterial and anti-inflammatory organic herbs that help to clot the blood, promote healing, soothe the skin and reduce scarring. Stash these handy packets in your first-aid kit, car, camper, backpack, purse and diaper bag. The convenient size also makes a great gift for hikers or anyone who enjoys outdoor adventures. 
Sprinkle Mighty Bandage™ on any type of fresh wound or cut and watch the bleeding quickly come to a stop. A simple poultice can also be made with the powder to be used on burns, blisters and insect bites/stings.

Our products are not intended to treat, cure, prevent or diagnose any medical condition.  This information provided on our website is not a substitute for the medical advice of a trained physician.  
INGREDIENTS
Yarrow Powder*, Marshmallow Root Powder*, Calendula Powder* & Oregon Grape Root Powder*

*Certified Organic Ingredient